About David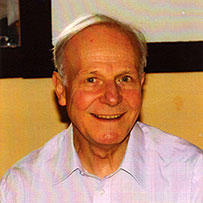 Comedy with the Cambridge Footlights, playing the scariest monster in Dr Who, penning searing drama about the Great War and the Holocaust – London-based David Gooderson has combined all these and much more in his career as playwright, actor, director, and drama tutor.
David's recent work (below)
Writing
David's stage plays (summaries) tell true stories that are powerful and resonant for today, receiving critical acclaim such as:
Excellent
Alan Bennett on The Killing of Mr Toad.
For children (stage play summaries), adaptations of Kenneth Grahame's The Wind in the Willows have particularly pleased audiences:
David has also written a number of plays broadcast on BBC Radio 4.
Acting
Best known as Davros in Dr Who and Simpkins the Pathologist in A Touch of Frost, David is one of the most versatile character actors in the UK. His credits range from playing a "parcel" in a TV commercial to King Lear …more.
Directing
David started by directing J.M.Synge's The Playboy of the Western World at Salisbury Playhouse, starring Stephanie Cole. More recently he has directed Oliver Gray's version of Robin Hood (Farnham Maltings) and his own play So Great a Crime (Finborough Theatre, London) …more.
Drama Tutoring
David has directed courses in acting for radio and voice-over technique at the City Literary Institute in London since 2001. For twenty-one years he was the Radio Tutor at Guildford School of Acting and prepared students for the prestigious BBC Carleton Hobbs Radio Drama Award.
Recent and Forthcoming Work
In July there will be a production of the short version of The Wind in the Willows at The Marian Street Theatre for Young People in Wahroonga, NSW Australia. David 's new play Quarry will have its world premiere in November 2016.
In 2015 David's play Hector, originally titled So Great a Crime, and awarded a substantial grant from Creative Scotland, finished a national tour last autumn (tour dates and theatres).
In 2014 David was in three different stage productions. He played:
Price (and 14 other parts) in Caryl Churchill's The After-Dinner Joke (Orange Tree, Richmond)
The General in The Flouers o'Edinburgh (Finborough Theatre)
Grandpa Joe in Grandpa Joe's Giant Story-telling Bed (Southbank Centre and Battersea Arts Centre).
David's Stage Plays
Stage Plays
Stage Plays for Children
Co-written with David Conville:
Play Scripts & Other Publications
My Dearest Mouse – The Wind in the Willows letters by Kenneth Grahame. Introduction and notes by David Gooderson. Pavilion Books, 1988.
The Curse of the Egyptian Mummy – adapted by David Conville and David Gooderson from the novel by Pat Hutchins. Samuel French, 1993.
The Killing of Mr Toad – stage play by David Gooderson. Finborough Theatre, 2009 (copies available from David, via the e-mail link below).
So Great a Crime – stage play by David Gooderson. Oberon Books, 2012.
Fuller descriptions, and links to booksellers