About David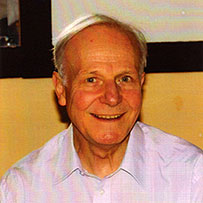 Comedy with the Cambridge Footlights, playing the scariest monster in Dr Who, penning searing drama about the Great War and the Holocaust – London-based David Gooderson has combined all these and much more in his career as playwright, actor, director, and drama tutor.
David's recent work (below)
Writing
David's stage plays (summaries) tell true stories that are powerful and resonant for today, receiving critical acclaim such as:
Excellent
Alan Bennett on The Killing of Mr Toad.
David's plays for children (stage play summaries) include two adaptations of Kenneth Grahame's The Wind in the Willows:
David has also written a number of plays broadcast on BBC Radio 4. His play Walk or Die is scheduled to be repeated on Radio 4 Extra on 30th April 2022.
Acting
Best known as Davros in Dr Who and Simpkins the Pathologist in A Touch of Frost, David is one of the most versatile character actors in the UK. His credits range from playing a "parcel" in a TV commercial to King Lear …more.
Directing
David started by directing J.M.Synge's The Playboy of the Western World at Salisbury Playhouse, starring Stephanie Cole. More recently he has directed Oliver Gray's version of Robin Hood (Farnham Maltings) and his own play So Great a Crime (Finborough Theatre, London) …more.
Drama Tutoring
For twenty-one years David was the Radio Tutor at Guildford School of Acting. He prepared students for the prestigious BBC Carleton Hobbs Radio Drama Award and had several winners. He is currently directing courses in Acting for Radio and Podcast Dramas at the City Literary Institute in Central London.
Recent Work
In 2015 David's play Hector (aka So Great a Crime) went on a UK tour, ending at the Ambassadors Theatre, London.
In 2016 in Singapore, he played Montague in Romeo and Juliet for the Singapore Repertory Company.
In 2017 he played the lead in the award-winning short film Cicatrix and, on stage, Willie Gregson in A Day by the Sea at Southwark Playhouse.
In 2018 he played Mr Sowerberry in Dodge and Twist, a radio drama for Audible.
In 2020 David played Stan Holloway (a grateful patient bringing an unusual present) in A Good Friend, episode 133 of Doctors on BBC1.
In March 2021 RAVA Productions performed David's short version of The Wind in the Willows in Queensland, Australia. It was so successful that a tour is planned for 2022.
In December 2021, David played Reg in Up and Out Crew Go Skydiving a radio drama written and directed by Rose Mac (Emzfit).